The path to gender equality has been a long and challenging road spanning many years. From the suffragette movements to present-day struggles for equal pay and representation, humanity has seen significant moments in the pursuit of gender fairness. 
The Suffragette Movement emerged as a significant force in the late 19th and early 20th centuries, paving the way for political equality for women. The movement aimed to break down societal norms that had marginalized women in political participation. Leaders like Susan B. Anthony and Emmeline Pankhurst inspired suffragettes worldwide, leading spirited protests and acts of civil disobedience to demand the right to vote.
The suffragettes faced strong opposition from entrenched patriarchal structures resisting change. These brave women challenged the status quo, enduring public scorn and even imprisonment in their quest for political empowerment. 
The impact of the suffragette movement went beyond gaining the right to vote. It sparked conversations about women's roles in society, challenging prevailing notions about their intellectual and political abilities. The movement triggered a shift in mindset, fostering empowerment among women who, for the first time, saw themselves as active agents of change rather than passive observers of history.
World War II
World War II marked a significant period in the quest for gender equality, as women took on unprecedented roles on the home front, reshaping societal expectations. With a large portion of men enlisted in military service, women became the backbone of the wartime workforce, filling roles in factories, offices, and sectors traditionally dominated by men. This increase in female participation not only addressed labor shortages caused by the war but also challenged stereotypes about women's capabilities.
Women's contributions during the war extended beyond workplaces to every aspect of daily life. They played crucial roles in maintaining essential services, managing households, and supporting the war effort through resilience and adaptability. This shift in gender roles faced challenges, including skepticism and resistance as women entered previously male-dominated spheres. The demands of the war prompted a reevaluation of norms, providing opportunities for women to showcase their competence.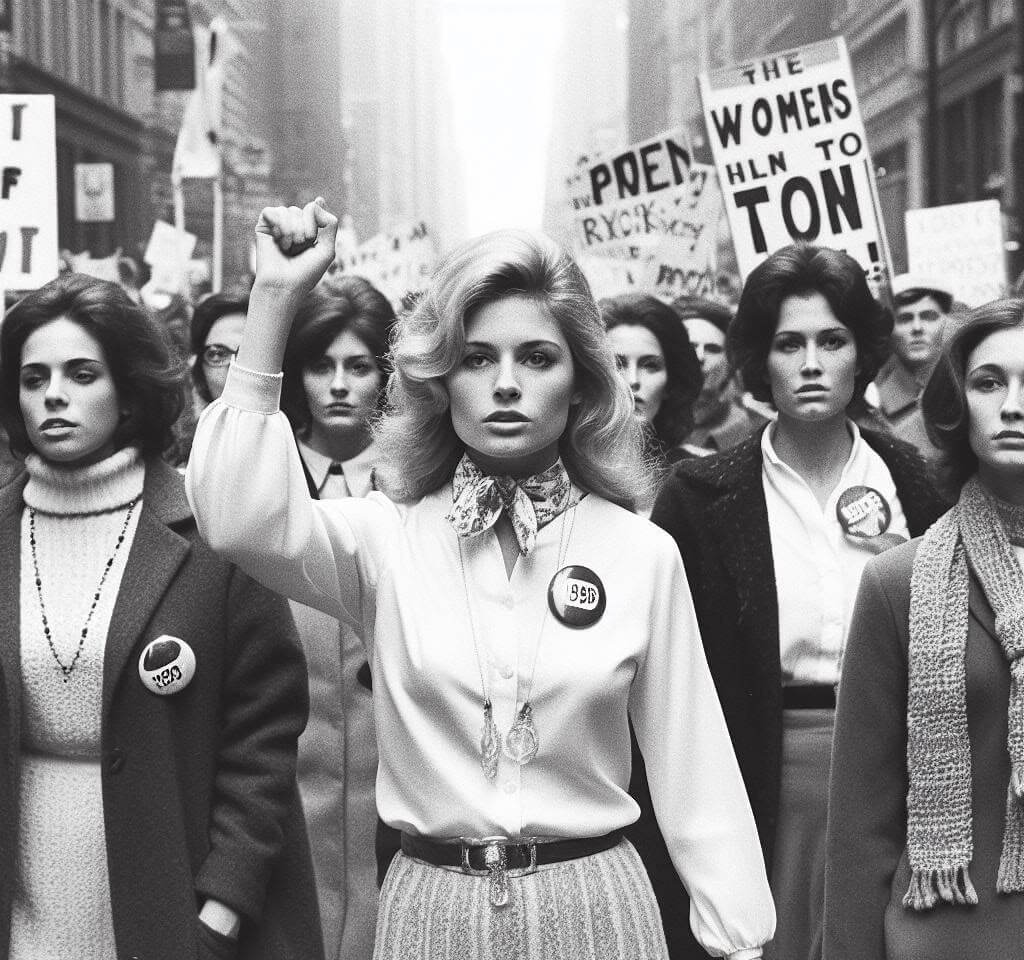 The end of World War II did not bring a return to the pre-war norms. Instead, the war's impact lingered in a transformed social landscape. Women who had experienced economic independence and demonstrated their capabilities during the war were no longer satisfied with traditional gender roles. This newfound confidence and independence laid the groundwork for the feminist movements of the 1960s and 1970s, addressing deep-seated inequalities and redefining women's roles in society.
Second-Wave Feminism
The 1960s marked the resurgence of second-wave feminism, a powerful movement pushing for gender equality. Building on the achievements of the suffragette movement and the changes brought by World War II, second-wave feminism aimed to address deep-seated inequalities. This phase of the feminist movement focused on issues beyond voting rights, tackling reproductive rights, workplace discrimination, and societal expectations around women's roles.
Influential figures like Betty Friedan and Gloria Steinem played pivotal roles in advocating for change. Friedan's influential work, "The Feminine Mystique," critically examined women's limitations in the post-war era, sparking conversations about dissatisfaction within traditional domestic roles. Steinem, through activism and journalism, became a symbol of the movement, advocating for reproductive autonomy, equal pay, and an end to gender-based discrimination.
Reproductive rights became a central focus, with the introduction of the birth control pill in the early 1960s sparking discussions about women's autonomy. The fight for the right to make decisions about reproductive health became a cornerstone of second-wave feminism, challenging societal norms and attitudes toward women's control over their lives.
In addition to reproductive rights, second-wave feminism addressed workplace discrimination, emphasizing the systemic barriers hindering women's progress in various professions. The movement called for equal pay, recognizing economic independence as crucial for women to break free from traditional roles and fully participate in society on their terms.
The era saw the rise of consciousness-raising groups, providing a space for women to share experiences and collectively challenge societal norms. The phrase "the personal is political" encapsulated the movement's recognition that individual experiences reflected broader systemic issues, urging women to scrutinize and challenge their circumstances.
While second-wave feminism achieved significant milestones, such as the legalization of abortion with the Roe v. Wade decision in 1973, it faced criticism for not being inclusive enough. Some argued that it primarily addressed the concerns of white, middle-class women, sidelining the intersectionality of gender with race, class, and other social factors.
Navigating Gender Equality Today
In the 21st century, the fight for gender equality faces a complex landscape with numerous contemporary challenges. Despite progress since earlier feminist waves, issues persist, hindering the achievement of true gender parity.
One significant challenge is the enduring gender pay gap. Despite increased awareness and advocacy, women still earn less than their male counterparts for equivalent work, perpetuating economic inequality and reflecting biases that hinder women's professional advancement. Addressing the gender pay gap requires a comprehensive approach, covering workplace policies, cultural attitudes, and legislative measures to ensure fair compensation for all.
Another pressing issue is the underrepresentation of women in leadership roles across various sectors. Although women have made strides in entering the workforce, a glass ceiling persists, limiting their access to executive positions and boardrooms. Breaking through this barrier requires dismantling stereotypes and biases hindering women's progress and implementing initiatives promoting gender diversity in leadership.
Debates over access to contraception, abortion, and comprehensive healthcare highlight the ongoing struggle for women's autonomy over their bodies. Navigating the complex interplay of politics, religion, and individual rights is essential to ensure women can make informed choices about their reproductive health.
The #MeToo movement, gaining momentum in the late 2010s, brought the pervasive issue of sexual harassment and assault to the forefront. While empowering survivors to share their stories and exposing the prevalence of misconduct, it underscored the need for systemic change to eradicate toxic workplace cultures and hold perpetrators accountable. Achieving lasting change requires a cultural shift challenging ingrained power dynamics and promoting environments of respect and equality.
The intersectionality of gender with other social factors, such as race, ethnicity, and socioeconomic status, adds complexity to the fight for equality. Recognizing and addressing the unique challenges faced by individuals at these intersections is crucial for fostering inclusivity within the broader gender equality movement.